Our core expertise is in the design of PLC/PAC (Programmable Logic Controllers/Programmable Automation Controllers) based control systems that are partnered with HMI/SCADA (Human Machine Interface/Supervisor Control and Data Acquisition) applications. This expertise is paramount to controlling complex multi faceted automated manufacturing systems that may use robots and pneumatic assembly equipment as well as simple stand-alone lines. Real-Time data that is available throughout the organization enable flexible manufacturing and production and allows key decision makers to make more precise decisions.
This core expertise is not limited to our understanding of the instrumentation that is necessary in sensing, measuring, weighing or manipulating your specific part or process.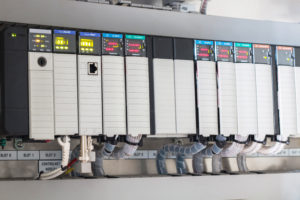 CAC also has expertise in conveying necessary real time data from the plant floor and making it available to your IT department for processing, archiving, trending or even the plant website. This alone allows for better decision making and plant floor management.
CAC's automation engineering and controls design capabilities include:
Process and Instrumentation Diagrams (P&IDs)
Communications Network Design and Specifications
Control Strategies and Documentation
Instrumentation Specifications
Human Machine Interface (HMI)
Pneumatic Pick and Place Design
Programmable Logic Controller (PLC) Specifications/Programming
Robotics Programming
Electrical/Mechanical troubleshooting and support
Batch Control (ANSI/ISA-88)
Alarming, Data Logging, Trending, and Reporting
SCADA Software/Hardware Selection and Specifications